In a remarkable display of excellence and innovation, Shearwater Japan emerged as the undisputed star, recognised by Oracle Japan as the NetSuite leader for Japan 2023. At this event, we witnessed SWJ's resounding success as it secured multiple awards, reinforcing its commitment to pushing the boundaries of achievement. The Partner event serves as a platform for recognising outstanding breakthroughs; this year's event was no exception. Shearwater Japan's outstanding achievements stood out in a crowd of formidable contenders.
At the heart of their remarkable triumph was their unwavering dedication to innovation. The exceptional services provided by them were a clear indication of their unwavering commitment to excellence.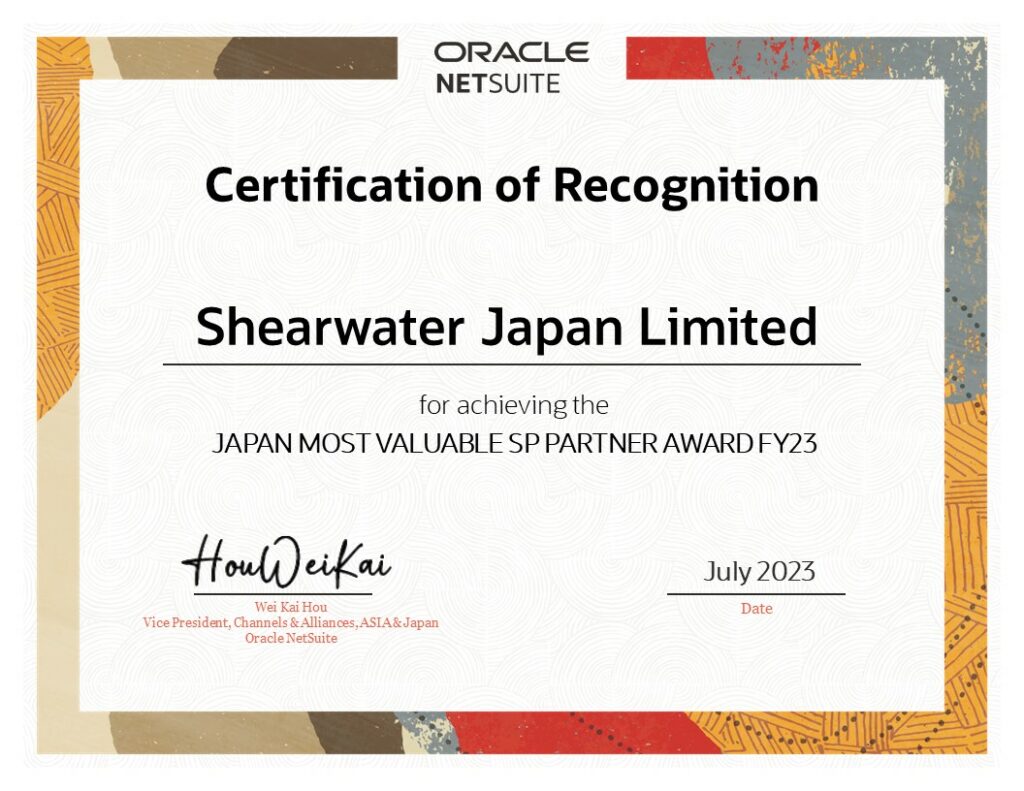 Strong Teamwork and Dedication
Behind these awards lie a team of dedicated individuals who have transformed Shearwater Japan's vision into a tangible reality. The company's leadership, strong teamwork and excellent expertise have worked in unison to navigate challenges and seize opportunities, propelling Shearwater Japan to the summit of success. The awards symbolise the collective effort that has shaped its journey and continues to drive its future endeavours.
SWJ's distinction as a top-tier cloud solutions provider has gained even more recognition due to their recent success in winning an impressive three awards at the Oracle NetSuite partner event.
Shearwater Japan clinched the coveted New Logo Rockstar award, achieved recognition by securing the prestigious Most Valuable Partner Top ARR Award, the esteemed Largest Deal Award and Japan Most Valuable Award FY23 at the Oracle NetSuite event. 
As a premier financial digital transformation consultancy in Japan, SWJ has become a pivotal player within Shearwater Asia's strategic initiatives for market growth across Asia. SWJ stands out for its exceptional expertise in cloud solutions and the implementation of automation projects. This puts them at the forefront of helping businesses reach new heights with cloud solutions. The awards not only underscore the persistent dedication of the SWJ team but also embody the collective efforts exhibited across Shearwater Asia.
Final Words
These recognitions stand as a resounding testament to the trust enterprises repose in Shearwater Japan for steering their finance digital transformation moves. Shearwater Asia and Shearwater Japan remain dedicated to constantly expanding our offerings, reinforcing our partnership with Oracle NetSuite, and maintaining our position as the foremost cloud solutions provider.